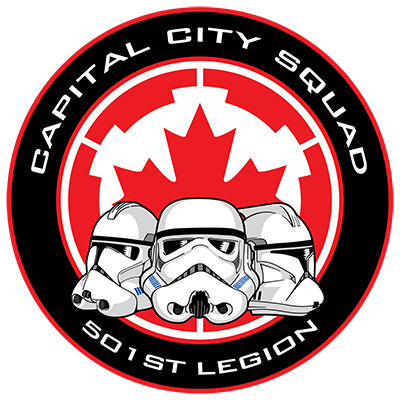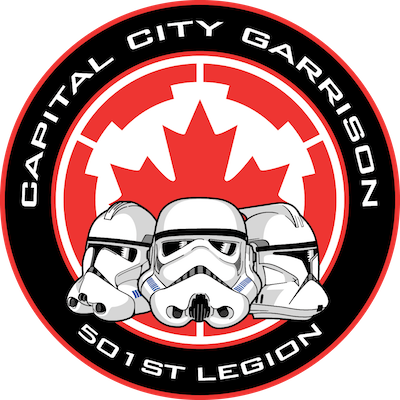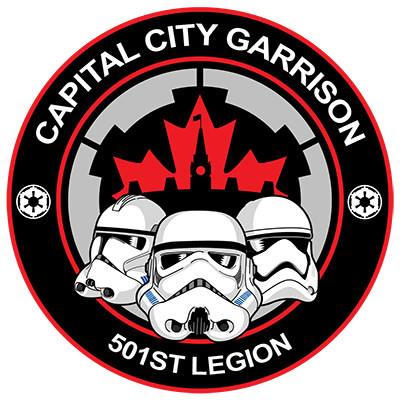 The Capital City Garrison
What is now the Capital City Garrison grew from a few 501st Legion members in the Ottawa area who started making local appearances in late 2004. The first official event promoted Star Wars and the "Power of the Force" toy line launched by Hasbro. In May 2005, the group partnered with Pepsi at marketing events to promote the release of the final Star Wars prequel movie "Revenge of the Sith". Additional events followed.

As the group began making more appearances, more members joined and in 2007 the membership grew to form the Capital City Squad as part of the Canadian Garrison. The Squad participated in various charity events and helped raise thousands of dollars. They also attended other local events, such as Free Comic Book day, various parades, etc. The Squad continued to gain new members, and in late 2009 had grown large enough to form its own garrison.

In early 2010, the squad became the Capital City Garrison, whose territory covers eastern Ontario, including the Ottawa, Petawawa and Kingston regions.

We are the "Capital City" Garrison for three reasons:
As an homage to the former Capital City Squad
The majority of our members are located in Canada's capital city; and
It reminds us of our Canadian history – Kingston was the first capital of Canada (1841) until it was moved to Ottawa (1857).
If you are interested in having us appear at your next charity event or are interested in joining the ranks of the 501st Legion, please contact us!
Our Mission
To Promote Interest in Star Wars While a growing number of people are experiencing a reawakening of their Star Wars fandom, new generations are seeking ways to celebrate their passion for George Lucas's modern mythology. The 501st Legion brings these fans together, reinforcing the enduring longevity of the Star Warssaga. To Facilitate the Use of Costumes Some fans are content to collect action figures…other fans want to be action figures. Nothing professes your passion quite like building your own detailed costume replica of a classic Star Wars villain, and there's nothing quite like the feeling that comes from bringing the characters ofStar Wars into the real world and sharing the magic with others. To Contribute While our organization was founded to simply provide a collective identity for costuming fans with similar interests, the 501st is proud to put its resources to good use through fundraising, charity work, and volunteerism. Read more about our charity work here.
Our Boundary
Canadian Garrisons
Canadian Squads/Outposts